Hello, everyone welcome to O.N.E. Blog web page, i hope you all enjoy today's topic.
What is CSS?
CSS stands for Cascading Style Sheets with an emphasis placed on "style." CSS comes through and specifies your document's style such as page layouts, colors, and fonts are all determined with CSS.
How does it work?
When you think about the way CSS works, think of customizing your web pages by interacting with HTML elements.
Elements are the individual HTML components of a web page.

By Melissa Walter
In other words, CSS is written in simple plain text through a text editor or word processor on your computer. There are three ways to add that CSS code to your HTML pages. Which can consist of external, internal, or inline.
Many individuals may become confused on doing this process, so i will present a vivid image of a HTML element.
Vivid image: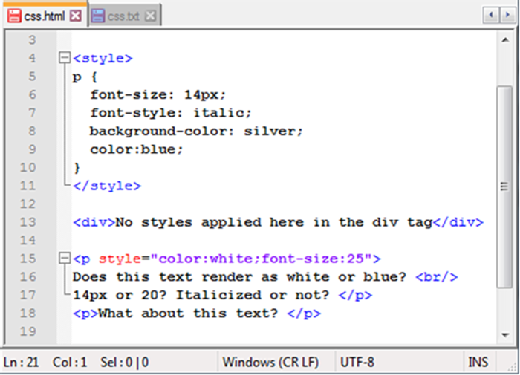 However, once you are more aware of this element it starts to make sense. This element will help individuals be able to understand the concept CSS, the proper use of CSS, and people will be more familiar with this element.
In conclusion, my experience with CSS was quiet confusing at first but with the help of my professor it became more clear due to practicing. It can make you feel proud of yourself also because its like you behind the scenes of a web page and designing it in a way that fits your creativity. If you will like to know more about CSS please visit the link below:
https://arstechnica.com/information-technology/2015/10/tomato-versus-ff6347-the-tragicomic-history-of-css-color-names/
Thank you all for visiting my blog today, i hope i broke everything down good enough for you all. Make sure you please like, share, or comment down below.